Get Mesomorph,Mesomorph by APS Nutrition, Pre Workout and other APS Nutrition products shipped the same day to USA, Brazil, United Kingdom, Canada, Australia, Malaysia, India, France and worldwide at the cheapest price online.
Mesomorph by APS Nutrition - Pre Workout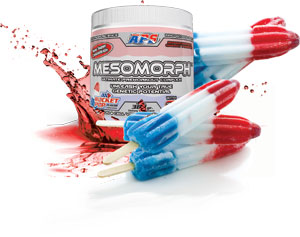 Mesomorph is the KING of pre-workout powders! Mesomorph, the complete pre-workout powder that is the only product on the market to deliver FULL CLINICAL DOSAGE AMOUNTS of its state-of-the-art ingredient! No fillers and no crash!
Mesomorph was the first to deliver full doses of its key active ingredients, not half doses typically seen in these types of formulas. Mesomorph also contains 388 grams per jug not the pint-sized products being put out now to maximize profits! APS Nutrition's Mesomorph is an extreme energy igniting, vein blasting, and fatigue fighting power formula. Mesomorph represents one of the most advanced, all-purpose energy, focus, hydration and exercise performance drinks ever created. If you're looking for one incredible all-purpose training formula then Mesomorph is guaranteed to deliver eye opening energy, focus, and stamina like nothing you've ever experienced before!*
Mesomorph, Pre-Workout Complex Will Help Athletes with the Following:
Ultimate Preworkout Complex with Creatine Nitrate!
Unleash Your True Genetic Potential!
Greater Muscle Gains and Enhanced Athletic Performance!
Mesomorph references the genetically ideal body type.
Simply put Mesomorph is the athletic or medium build body type that enables you to build muscle and lose fat with ease. Whether your Ectomorph or Endomorph let Mesomorph PWO unleash your true potential.
What's in Mesomorph ?
How to take Mesomorph:
Assess tolerance: MESOMORPH is a high potency formula that may require a gradual dose increase for some individuals. If you are experienced with beta alanine go right to 1 full scoop (MESOMORPH contains 4000g per serving). If you are not experienced with beta alanine start with 1/2 scoop of MESOMORPH. If no tingling or discomfort occurs take 1 full scoop on the next dose and thereafter. If tingling does occur continue 1/2 scoop for 7-10 days then increase to 1 scoop (or as soon as possible). That warm tingle sensation is just Mesomorph at work. Although it can be strong in some, it is not harmful in any way and will subside once body adjusts. Suggested use: After tolerance has been determined 40 minutes prior to workout, mix one scoop of MESOMORPH with 8-10 ounces of water, stir adequately and consume immediately on an empty stomach. On non-workout days, consume 1/2 scoop MESOMORPH mixed in water on an empty stomach. Although you will feel MESOMORPH from day 1, best results begin to occur at day 15 and continue to improve up to day 60. After 8 to 10 weeks, it is recommended that you discontinue use of MESOMORPH and take at least 8 to 10 weeks off before resuming use